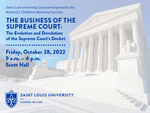 Title
2022 Panel 3--Covering the Court
Description
This year's annual Childress Lecture, to be delivered by University of Texas School of Law Professor Stephen Vladeck, will provide both a historical introduction to and a modern reassessment of the shape and size of the Supreme Court's docket — and will argue that both academic and public discourse about the work of the Court has increasingly failed to account for holistic shifts in the kinds of cases that the Justices are (and aren't) choosing to decide. A proper accounting of the 'Business of the Supreme Court,' Professor Vladeck will argue, helps to show just how significantly the Court's role in our legal system has changed in recent years — without almost anyone noticing.
Schedule
Panel 3--Covering the Court
Kate Shaw, Professor of Law, Yeshiva University, Benjamin N. Cardozo School of Law; ABC News Legal Analyst; Co-Host of Supreme Court and legal-themed podcast "Strict Scrutiny"
Keywords
Panel 3, Covering the Court, Covering, Court
Recommended Citation
de Vogue, Ariane; Howe, Amy; and Shaw, Kate, "2022 Panel 3--Covering the Court" (2022). Richard J. Childress Memorial Lecture. 6.
https://scholarship.law.slu.edu/childress_lecture/6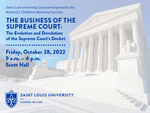 COinS